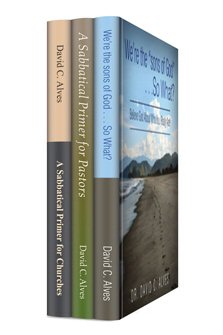 I'm writing this to my friends, family, and present and future readers. I believe that my books serve an important role in both spiritual formation for believers in Christ as well as  foundational primers for pastors. Now, they have a great chance of being made available to those students of Scripture and ministry leaders who use Logos Bible Software.
Both Sabbatical Primers and We're the "sons of God" . . . So What? have been made available to Logos Bible Software's "Pre-pub" Department. If you have any inclination to help place my pastoral and spiritual formation books into the hands of readers at a reasonable price, I'd like to show you how you can help.
Simply click on the link or the photo of my collection of books here in the post or at the right in the navigation bar and that will take you to the product page. Of course, once there you can buy the books for yourself for $19.99, but that's not necessary to help. Whether you buy them or not, simply share them using the social media icons directly under the photo of my books on the product page.
You can also simply copy and paste the URL below into your Facebook or Twitter and say something about the books. When you publish your comment, the link will place a photo of the books and the product page on your FB or Twitter so that readers can click and go to the product page to look at and purchase the collection.
https://www.logos.com/product/55191/david-alves-collection
When the books gather enough interest, then Logos will publish and ship them. I hope you'll decide to help make this roll-out of the new collection available.