This book was written to the churches to give church families insight into the role and needs of the pastors and their families. Buy it. Read it. Then communicate your care and love for the pastor God has given you.
Please share this with someone you know who also appreciates the gift of a caring pastor and his/her family. I hope it helps you find ways to return the love.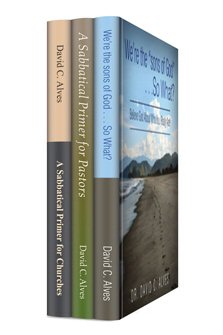 I'm writing this to my friends, family, and present and future readers. I believe that my books serve an important role in both spiritual formation for believers in Christ as well as  foundational primers for pastors. Now, they have a great chance of being made available to those students of Scripture and ministry leaders who use Logos Bible Software.
Both Sabbatical Primers and We're the "sons of God" . . . So What? have been made available to Logos Bible Software's "Pre-pub" Department. If you have any inclination to help place my pastoral and spiritual formation books into the hands of readers at a reasonable price, I'd like to show you how you can help.
Simply click on the link or the photo of my collection of books here in the post or at the right in the navigation bar and that will take you to the product page. Of course, once there you can buy the books for yourself for $19.99, but that's not necessary to help. Whether you buy them or not, simply share them using the social media icons directly under the photo of my books on the product page.
You can also simply copy and paste the URL below into your Facebook or Twitter and say something about the books. When you publish your comment, the link will place a photo of the books and the product page on your FB or Twitter so that readers can click and go to the product page to look at and purchase the collection.
https://www.logos.com/product/55191/david-alves-collection
When the books gather enough interest, then Logos will publish and ship them. I hope you'll decide to help make this roll-out of the new collection available.
Pastor Appreciation Month is almost through. One of the most opportune times to show your love and appreciation to the pastor and his/her family is the month of October's "Pastor Appreciation" month. Many  congregations remember and honor their pastors with gifts and special recognition. One year our congregation gave Marcy and I a weekend in Oxford, Maine at a wonderful bed & breakfast in the mountains. And one of the elders brought that Word that Sunday.
However, some congregations are either unaware of "Pastor Appreciation" month, or they don't understand why the pastor and his or her family deserve to be loved and honored in this way. That's one of the reasons I wrote A Sabbatical Primer for Churches: How to Love and Honor the Pastor God Has Given You.
This book should be a gift to yourself FIRST. It opens the world of pastoral ministry and pastoral issues to the person who cares about the church and cares about those who sacrifice to lead the church (not just pastors). Most people don't really have a clue what pastoral ministry is about. That's not their fault. Most pastors don't know what a bank teller has to do all day or what a plumber's major concerns might be.
Only two ways to understand pastoral ministry. First, to live it. Or, second, to read about it. This books helps get you into the life of church leadership. That still won't give you complete understanding, but it goes a long way past anything that I've found out there to at least get you somewhat oriented.
The primer for churches should be read by everyone who is a member of the body of Christ. And it should absolutely be read by every elder, deacon, church board member. So it makes a good gift for that person as well.
Then, purchase copies of A Sabbatical Primer for Pastors: How to Initiate and Navigate a Spiritual Renewal Leave to give to each on the pastoral staff or to the pastors you have come to care about or love. Or if your church is elder led, then give a copy to the lead elder. Both books are also available in the Kindle format and the Kindle Reader App is available FREE online.
Why not make this October a special month for whoever pastors you. Read the primer for churches and give the gift of the primer for pastors to your shepherds. That's one way you can love and honor your pastor(s).